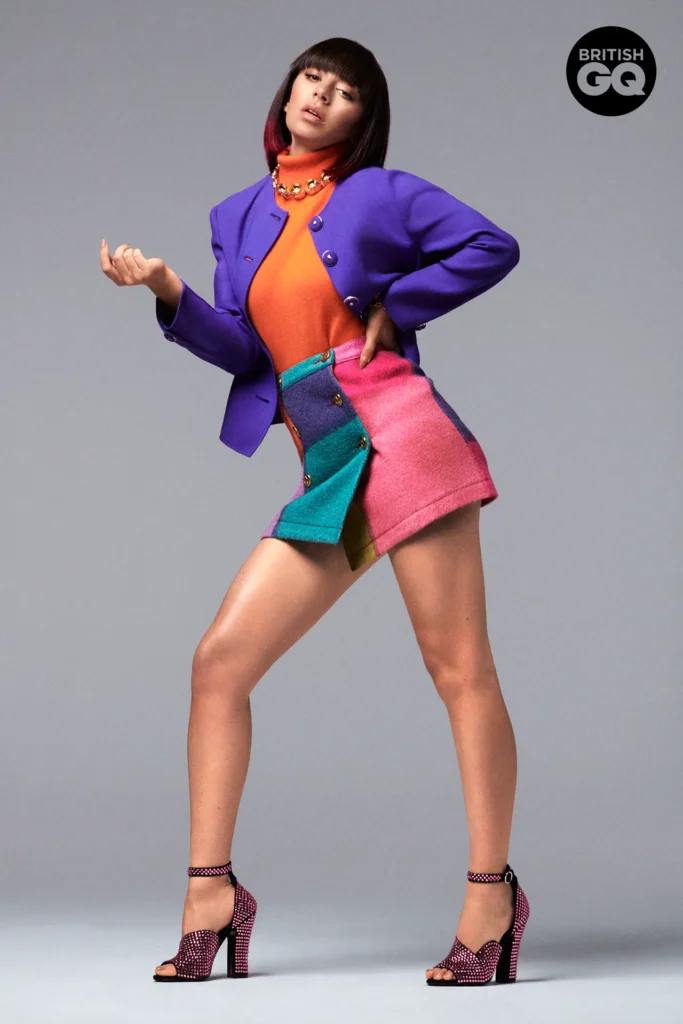 "I've always wanted to write pop music. I never wanted to be cool." Even early in her career, Charli XCX was dropping pull quote-ready aphorisms, the sort of declarations we might expect from an auteur. Charlotte Aitchison was only 21 years old when she released her proper debut album, but she was confident. And she was cool, despite her suggestion to the contrary.
When True Romance came out, it was more of a coronation than an introduction — at least for those of us who had been following the slow, steady rise of Charli XCX. Not many songs on the album came as a surprise. We had been living with some of them for years by that point. "Stay Away" and "Nuclear Seasons," the two singles that brought Charli to wider consciousness, dropped nearly two years before True Romance, and they weren't the only ones circulating online. The songs on True Romance trickled out as singles and through a pair of mixtapes, Heartbreaks And Earthquakes and SUPER ULTRA.
The staggered, somewhat chaotic release schedule would become the norm for Charli XCX's creative output in the years to come, an early example of her restless urgency to simply get things out there, record labels be damned. Out of all Charli's alternative pop contemporaries — among them Sky Ferreira, Lorde, Grimes — she's the only one that has been so prolific, the only one that has adapted to the faster pace of the music industry, even when the music industry didn't necessarily want to keep up with her. It has been a tumultuous ride, but a decade later she has amassed a whole lot of music to her name — and it all started in earnest with True Romance, which came out 10 years ago today.
Charli XCX was a child of the internet: her earliest tracks uploaded to MySpace, her moniker lifted from her MSN screen name. When she was 14, her parents helped pay for her to record an album — it would never come out officially, but the songs she shared from it attracted the attention of club promoters, who invited her to DJ on the underground UK party scene. Charli was an omnivorous listener — just a few of the names she mentioned as influences in early interviews: Justice and Uffie, the Cure and Siouxsie & the Banshees, Britney Spears and the Spice Girls, Belinda Carlisle and Duffy and Kate Nash.
Maybe that breadth of inspirations is why it took her so long to land on a signature sound — or at least her first signature sound. Early tracks like "!Franchesckaar!" had her testing out trashy techno. She was still experimenting with who she wanted to be when she was signed to the Atlantic Records subsidiary Asylum in 2010 at just 18 years old. "I was lost, you know?" she told The Guardian of those early years. "I was still in school, I'd just come out of this weird rave scene, and I wasn't really sure what to make of that. And when I got signed I hated pop music; I wanted to make bad rap music. I didn't know who I was. I didn't know what I liked. Even though I was signed, I was still figuring it out."
It wasn't until her label sent her to Los Angeles and she had a fortuitous recording session with Ariel Rechtshaid that things started to make sense for Charli. He collaborated on the two earliest singles from True Romance, "Stay Away" and "Nuclear Seasons" (the latter co-written with Justin Raisen). Rechtshaid was still establishing himself as a producer of a certain ilk — his most telling credits then were with Blood Orange and Glasser, though the same year that those two Charli tracks were released, he'd also work with Usher and Sky Ferreira. True Romance would end up as part of a a banner 2013 for Rechtshaid in which he had his hands in Modern Vampires Of The City, Days Are Gone, and Night Time, My Time. (All 10-year anniversaries coming to you soon…)
Another significant early collaborator was the Swedish producer Patrik Berger, who had worked with Robyn a couple years earlier on the iconic "Dancing On My Own." He co-wrote the similarly anthemic "You're The One" as another of Charli's True Romance singles, released almost a year before the album itself would come out. Even early on, Charli was proving to be adept at surrounding herself with talented collaborators. She was and remains a master-class curator. She elevated a beat by BloodPop, then known as Blood Diamonds, who would go on to work with a whole lot of big-name pop musicians and become a close collaborator of Lady Gaga. She sampled some tracks off a '70s Todd Rundgren solo LP. She flipped a Gold Panda beat into the infectious "You (Ha Ha Ha)," which would far surpass the instrumental that made the blog rounds a couple years earlier. Though there are a ton of different hands on True Romance, Charli is the creative visionary — these songs wouldn't work without her force of personality and her discerning ear.
When it did arrive, True Romance played like a greatest-hits collection. Maybe that's why I love basically every song on True Romance — sorry to "Cloud Aura" and Brooke Candy, it's still not happening — but I'm not sure if I love how it hangs together as a full album. Every track kind of lives in its own world, and even though they're all trading in similar sonic palettes it's not exactly a seamless listening experience. Even Charli's more slapdash mixtapes feel more cohesive because of the constraints that she made them under. But when the songs are this good, who cares?
We might as well start at the beginning of the tracklist with "Nuclear Seasons," one of the songs that unlocked it all for Charli. When it came time to put together her debut album, "Nuclear Seasons" served as a sonic blueprint for all the rest of the songs on the album. A billowing dance throb is infused with a strain of gothic malaise that serves as a counterbalance to the bubblier quality of Charli's voice. It's a song about passion at the end of the world, or maybe about a passion so deep that it feels like the end of the world. I have listened to this song hundreds of times and could not tell you what the hell she says after "We in the nuclear season" without looking at a lyric sheet. (It's "In the shelter, I'll survive this though" and "Summer lovin' in the backseat gone," for the record.) But that's part of the genius of the track: It's not so much in what she sings in how the song makes you feel. Charli's voice sounds like a victory hard-won. She's come out the other side; we survived.
All the tracks on True Romance tackle the cardinal sin and carnal pleasure of most pop songs: love. On these songs, Charli's sick with it, swinging wildly between needing it and rejecting it, as most young people do. Stay away! No, take my hand. "You're the one who can make me stay, you're the only one who makes me feel this way." "How can I fix what I fucked up?" On the propulsive and bouncy "What I Like," she's undressing in her house again, capturing a whirlwind relationship in corny but endearing talk-raps: "Used to come round, you'd be knockin' on my front door/ Playing board games, horror films with the super gore." Sure, why not? She ratchets up the drama on "Grins," which has always been my favorite track here, a majestic, sweeping distillation of what sounds like a panic attack: "I can't quite hear what you're saying/ Because my body started shaking/ Beaches and oceans, earth is quaking/ That's my heart that you were breaking."
There are a lot of moments on True Romance where Charli truly sings, something that has gotten a bit lost as she's increasingly played around with digital detritus. I can't think of a song like "Set Me Free" in her recent discography, where she really sinks her teeth into that topline. Or the closing strobe light that is "Lock You Up," less showy but just as affecting, as Charli ponders how she can hold onto that pure feeling for just a little while longer.
I'm not sure how much of an influence the sonics of True Romance really had on the pop landscape at large. I guess you could trace a throughline from this album to the darker waves of pop that bubbled up around Billie Eilish, though I'm not sure that the two are directly correlated — that feels more like a connection to Lorde, who was just starting her bid at pop domination right around this time. But certainly Charli has become a figurehead for so many artists who would be inspired by her iconoclasm, who would go on to populate her mixtapes and albums as featured guests over the years: Carly Rae Jepsen, Christine And The Queens, Rina Sawayama, MØ, Troye Sivan, Kim Petras, the whole PC Music camp. Instead of serving as a direct influence, it's more her attitude toward pop music that has pervaded. She invited them into her world to come and join the party.
Because for as much as Charli wanted to change the world of pop with True Romance, the album didn't perform especially well commercially. It ended up as music passed around cool groups of friends rather than something that lit the charts on fire itself. But it wouldn't be long before Charli made her own impact in the annals of popular music, albeit circuitously. A month after True Romance was released, a single by the little-known Swedish duo Icona Pop was released and started making its way up the charts, eventually peaking at #7 on the Billboard Hot 100. The featured guest: Charli XCX, whose backing vocals are barely heard but who co-wrote the track with Patrik Berger. The following year, Charli would have the biggest commercial hit of her career with the #1 Iggy Azalea collab "Fancy," and this time you heard her voice loud and clear on that bubblegum cheerleader stomp of a chorus.
But by then, Charli had already moved on to something new. She was working on a pop-punk album; from that she spun off a hit for herself in the Fault In Our Stars soundtrack song "Boom Clap." It wasn't long until she found herself on the bleeding edge of pop music, mangling it and reshaping it in her image, with a little help from her friends. She never really returned to the sound of True Romance, but she didn't need to. After all, she'd already done it. What's the point in repeating yourself? That's not very cool.